FBI shut down website that sold fake badge to Georgia man | News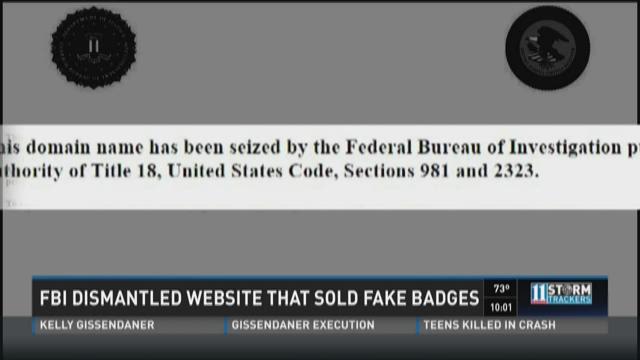 ATLANTA -- The FBI has dismantled and shut down a foreign-based company that was selling fake federal badges, the first time such an action has been taken.
The charges against Master-Equipment, a company based in Kaarst, Germany, arose out of an investigation into a phony badge used by a Georgia resident in Doraville last April.
Daniel Harbison was charged with being a felon in possession of a firearm. In August, he pleaded guilty and was sentenced to serve one year, nine months in prison.
"The production and sale of genuine-looking federal badges by Master-Equipment potentially places a badge in the hands of individuals, like Daniel Harbison, who are not law enforcement but use them for their own purposes," said U.S. Attorney John Horn.
Master-Equipment operated a website that was completely in English and purported to be an official, licensed seller of police badges. It even had testaments from alleged former U.S. law enforcement officials.
Britt Johnson, Special Agent in Charge, FBI Atlanta said the dismantling of Master-Equipment is critical in the post 9/11 era. "While this case was initiated by an unlawful traffic stop by an individual impersonating a federal law enforcement officer, those circumstances and consequences could have been much different and far more tragic," he said.
Master-Equipment used the website www.badge-police.com to sell and advertise products over the internet. If you log onto the website today you get a message from the FBI that reads in part: "This domain has been seized by the Federal Bureau of Investigation."
"To find and dismantle a foreign based website that's selling federal law enforcement badges, I can't recall that happening before," said FBI Special Agent Stephen Emmett.
Harbison was arrested in April after he posed as a DEA agent and unknowingly pulled over an off-duty Doraville police officer near Georgia Highway 141 and Homeland Drive.
Harbison wore a t-shirt with DEA on embossed on it and drove a silver Dodge Charger with LED lights in the windshield. He also carried a gun and displayed a DEA badge that he purchased from Master-Equipment.
When his home was searched, various items were found, including the t-shirt, gun, badges and a DEA I-D.
In a follow up investigation, the FBI, posing as ordinary civilians, ordered two badges from Master-Equipment. The fake badges were realistic and virtually identical to a real badge, according to the FBI.
It isn't what Harbison used the badge for that worries the FBI most. There are a number of circumstances and consequences that could have been far more tragic.
"They can use that as the advantage in getting that one door open at the airport that would otherwise be shut to them," Emmett said as one example. "A litany of other problems are posed in a post 9/11 era with an individual that has good quality, but counterfeit badges in their possession."
Master-Equipment is charged with manufacturing, selling and smuggling realistic American federal law enforcement badges into the United States.
You can follow Kevin on Twitter @krowson11alive and like him on Facebook